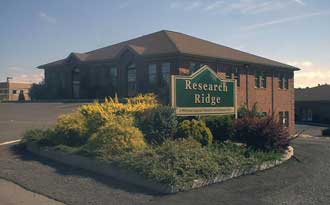 An example of a Whitman Augusta development project is Research Ridge, a private, campus-style, research and business park designed to create an economic network of energy technology companies in Morgantown, West Virginia. Located adjacent to the United States Department of Energy's National Energy Technology Laboratory (NETL), the campus was initiated to provide a convenient, collaborative center for organizations concentrating on energy and environmental related issues.
To date, the campus, built on 10 acres using the most up-to-date energy efficiency technologies, boasts multiple office buildings equipped with amenities such as ultrasonic and infrared sensors, fiber optic service, data ports, and radiant heating. The tenants of the campus include the U.S. Department of Energy, contractors and subcontractors for NETL, and other private organizations.
Please contact us to learn about leasing opportunities at Research Ridge or other Whitman Augusta properties.